I'm a ND girl at heart but there's no denying that we're always behind on things. All of us ND bloggers need to start to connect with each other, help each other out, cheer each other on, and maybe even plan a bloggers meet-up someday...?
I hope that by each of us putting the button on our blogs and continuing to work hard at this "hobby" that occupies so much of our time we can put North Dakota on the map in Blogland. There aren't many of us but I have a feeling that our group will just continue to grow. So in the midst of it's growth spurt, let's all be friends.
NORTH DAKOTA BLOGGERS NETWORK
Who are we?
This is a place for all North Dakota bloggers to find each other, connect, network, and maybe even plan real-life meet-ups. It doesn't matter how many followers you have or how long you've been blogging - if you live in the Peace Garden State then you belong in this group!
How do you join?
+ Add the ND Bloggers button (code found below) to your blog.
+ Leave a comment below with a link to your blog and include your e-mail address.
+ Once confirmed, you will be invited to our ND Bloggers Network FB Group and your blog will be added to our blog roll below.
What happens once I'm in?
Most communication is doing via our Facebook Group and you will be able to begin networking with and "meeting" other bloggers in our awesome state. I hope that we can continually help each other out - whether it be by offering guest posts, re-pinning pins, tweeting each other, or hosting link-ups together! As long as you are respectful of other members thoughts and opinions once you're in, you're in for life!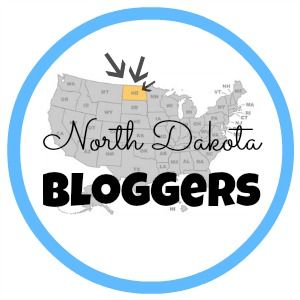 -----------------------------------------------------------------------------------------------------------------------