Do you ever ask yourself why you do it? Why do you make yourself go to the gym? Why do you choose a salad over a burger? Why do you run until you think you might actually die?
I've been thinking about this lately. Mostly because it's been a cold, dreary winter and let's be honest, the last thing I want to do when it's like that is go to the gym. I can think of lots of other things I'd rather do than bundle up to get from my car to the YMCA, work out, and bundle up my now-sweaty body to get back to my car; but we still make ourselves do it.
Looking good in a bikini 5 months from now is not a good enough reason for me - mostly because 5 months and sunshine-y weather seems
lightyears
away. I need more instant gratification and more
right-now
reasons why I should do that arm workout or get on the stair-stepper. So I've decided that
this is why I do it
:
1. It keeps my skin looking good.
When I exercise regularly my skin naturally stays healthier. I think it's partly due to sweating out all the bad toxins and partly due to the healthier food choices that result when I do regular exercise. Either way, I have less breakouts and more glowing skin which does wonders for a woman's attitude.
2. It gives me more confidence.
Even if my body has not physically changed in ways that other people can see, feeling the sore arm muscles or tight hamstrings makes me feel so much more toned. Add that feeling to the healthier skin and I feel like a much more beautiful, confident person.
3. Workout clothes are cute and shopping is more fun.
I love clothes, shoes, headbands, socks, or really any other accessory so I love to treat myself to new workout attire. I also love shopping, but shopping and trying on clothes is only fun if I feel good about how I look. Just knowing I've been maintaining healthy habits makes me feel that much better when I'm standing in a fitting room or looking at myself in the mirror.
4. It prevents stomach-aches and headaches and I have more energy.
I am a person who gets stressed out fairly easily, which oftentimes results is just not feeling well in general. 60 minutes at the gym really helps me relieve stress and stop worrying. I notice a huge drop in daily headaches when I exercise each day. Plus, I catch myself walking faster or running up the stairs just from starting my day at the gym.
5. It makes me happier.
That one doesn't need much explanation. I just feel happier.
I think it's good to remind ourselves why we do it, outside of losing weight or looking good, in order to stay motivated. I hope these thoughts can help me this week to reach my goal of getting to the gym every morning.
+++++++++++++++++++++++++++++++++++++++++++++++++++++++++++
Brittany and I have decided that this is going to be our last Get Fit, Feel Confident, Be Healthy Link-Up for now. Personal goals and healthy lifestyle changes are such long-term projects we want to take a break from linking up each week so that we can all come back together later on this spring and share an update how we've been doing (and hopefully be bikini-ready for summer!)
:)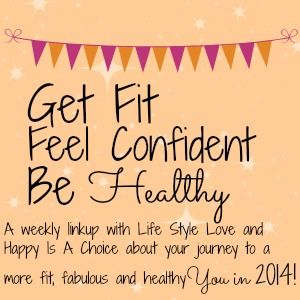 Will you please join in the fun with us?! Here's what you need to do:
1. Follow us on Bloglovin (Brittany and Sam) or GFC. Leave us a comment letting us know so that we can follow you back!
2. Write your Get Fit, Feel Confident, Be Healthy post on Monday. Link-up at one of our blogs!
3. Grab a button (above) and link back to our blogs in your post.
4. Meet new friends who are on a similar journey as you! One of the best parts of this link-up will be meeting other ladies who are sharing their ideas and stories so make sure you check out the other fit+fab women who are linking up!
Use the hashtag #getfitandfab - tag us on instagram and twitter so we can follow you on your journey!
Instagram: @brittmrasmussen and @samanthamarie_8
Twitter: @brit_rasmussen and @samanthamarie_8