I am such a planner - sometimes it's good and sometimes it's my downfall because I cannot necessarily just go with the flow. Every Sunday, at some point, I sit with my planner open for about 20 minutes. I think about what I want to accomplish this week, generally this includes looking at what I didn't accomplish last week. I take a look at Parker's hockey schedule for the week and we plan out our dinners. I write in my planner when I will work out each day. Taking a look at the week helps me to get a feel for how the week is going to go - I'm not going to lie, I don't love surprises.
Some people might think that it's too much planning (I mean really, is that even possible?) Or people might think you need to just flow and adapt, rather than have your entire week planned out. But it works for me.
Does everything always go according to plan? Absolutely not, and we adapt. Sometimes we don't want to wake up at 4:30 to work out so we change it up and go after work. Sometimes we eat leftovers instead of grilling because it's 12 below outside. Sometimes I plan on running errands on a Tuesday night but just don't want to. But if I have a "plan", I go to bed on Sunday night relaxed, refreshed, and ready to take on the world the next morning.
So what's cooking this week?
Monday: Soup and Grilled Sandwiches
Tuesday: Shrimp Stir-Fry
Wednesday: Chicken Fajitas
Thursday: Out to eat because my parents are in town!
Friday: Leftovers because Parker has a hockey game
Do you plan out your meals and/or workouts, too?
Or have you found other strategies that work for you?
++++++++++++++++++++++++++++++++++++++++++
This link-up will happen
every Monday
, but it is absolutely not necessary that you join in every single week (although we'd love to have you!) Get Fit, Feel Confident, Be Healthy is all about ANYTHING having to do with your journey to a more fit, fabulous, and healthy you in 2014!
This can be:
Your goals
A recaps of how you did the week before
Your new favorite workout songs
A salad you made for dinner that was healthy and delicious
Something you struggled with last week
Ways you've been able to successfully relieve stress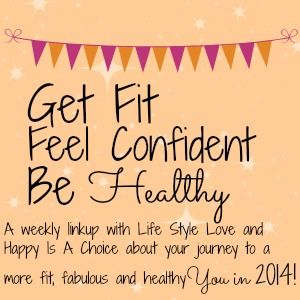 Will you please join in the fun with us?! Here's what you need to do:
1. Follow us on Bloglovin (Brittany and Sam) or GFC. Leave us a comment letting us know so that we can follow you back!
2. Write your Get Fit, Feel Confident, Be Healthy post on Monday. Link-up at one of our blogs!
3. Grab a button (above) and link back to our blogs in your post.
4. Meet new friends who are on a similar journey as you! One of the best parts of this link-up will be meeting other ladies who are sharing their ideas and stories so make sure you check out the other fit+fab women who are linking up!
Use the hashtag #getfitandfab - tag us on instagram and twitter so we can follow you on your journey!
Instagram: @brittmrasmussen and @samanthamarie_8
Twitter: @brit_rasmussen and @samanthamarie_8