A cosmo is basically health-in-a-fun-cup because they're low-cal.
You know what makes Mondays better? Besides the obvious
getting dumped on with snow so every single person in the city is stuck at home and can't go anywhere, thus work being cancelled
...? Music makes Mondays better. And today, my friends, is your lucky day because in honor of our Get Fit, Feel Confident, Be Healthy Link-Up I'm going to share my current workout playlist. If you've ever wondered what makes me get out of bed at 4:38 in the morning to go bust my butt at the gym, this playlist is it. Well, that and the dream that hopefully someday I'll look like
this
.
[Yeah, probably not gonna happen. Only
because I'd never dye my hair blonde
.] #agirlcandream
Wow, anyway, about that playlist. Here it is:
My favorite parts about my playlist?
I get to hear my iPod shuffle tell me I'm listening to "Run your butt off" in it's annoying computery voice. So there's that.
It's such a great mix. Keith Urban makes you want to look sexy. Wilson Phillips makes you feel like you can take on the world. And Ke$ha reminds you of all the things you do have going for you that lots of other young women don't.
I put in some sort of alphabetical order - in this case it's Z-A instead of A-Z. That way when I get my heart set on listening to a certain song I can find it fairly easily. This isn't easy if there's no order to my playlist since I workout with my iPod shuffle which doesn't have a screen.
So there you have it. I'm not promising it's going to make you happy at 5:00 am or even get you out of bed, but it might help!
+++++++++++++++++++++++++++++++++++++++++++++++++++++
This link-up will happen
every Monday
, but it is absolutely not necessary that you join in every single week (although we'd love to have you!) Get Fit, Feel Confident, Be Healthy is all about ANYTHING having to do with your journey to a more fit, fabulous, and healthy you in 2014!
This can be:
Your goals
A recap of how you did the week before
Your new favorite workout songs
A salad you made for dinner that was healthy and delicious
Something you struggled with last week
Ways you've been able to successfully relieve stress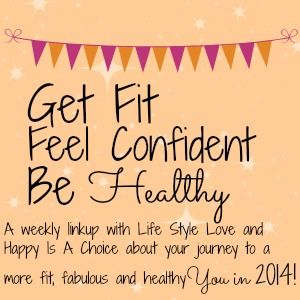 Will you please join in the fun with us?! Here's what you need to do:
1. Follow us on Bloglovin (Brittany and Sam) or GFC. Leave us a comment letting us know so that we can follow you back!
2. Write your Get Fit, Feel Confident, Be Healthy post on Monday. Link-up at one of our blogs!
3. Grab a button (above) and link back to our blogs in your post.
4. Meet new friends who are on a similar journey as you! One of the best parts of this link-up will be meeting other ladies who are sharing their ideas and stories so make sure you check out the other fit+fab women who are linking up!
Use the hashtag #getfitandfab - tag us on instagram and twitter so we can follow you on your journey!
Instagram: @brittmrasmussen and @samanthamarie_8
Twitter: @brit_rasmussen and @samanthamarie_8