Monday Funday! Or something like that, right? More like Sunday Funday yesterday and everyone's recovering from all the Super Bowl festivities today, right? I wouldn't know because as I'm writing this the Super Bowl is set to start in 2 hours and we are set to get home from another weekend of hockey in 3 hours. Althought I'm not a big sports girl (if we're being completely honest), I like to watch the biggies - this includes the national anthem, halftime show, commercials throughout, and 4th quarter of the Super Bowl. Anywho....
We're on Week 5 of our Get Fit, Feel Confident, Be Healthy Link-Up! I can't believe it. I have loved reading about the journeys of those of you who have shared. If you're new here, glad to have you! You can join in anytime and share about your journey to becoming a healthier, more fit, more confident woman - whatever that might mean for you and your lifestyle!
For me, this journey has meant an effort to eat cleaner, healthier meals and exercise on a daily basis. I can honestly say that I feel better about myself since January 1st of this year. The last 2 weeks have been a bit more challenging for me and, I will admit, I have not been meeting all of my goals as well as I was at the beginning of my journey. But I also think that's life, right? We're not perfect everyday. We set a goal and try to reach for it. We're not going to be able to reach all of them every day because, let's face it, life just gets in the way sometimes.
Life (n): may include, but is not limited to, work, cleaning, friends, happy hour, 2-4-1 appetizers, busy schedules, martinis.
I have found a few favorite go-to meals that are easy, healthy options if you are trying to eat higher protein, whole-grain, well-rounded meals.
Breakfast go-to: 1 maple & brown sugar oatmeal packet, topped with 1/4 cup slivered almonds and 1/3 cup fresh blueberries. (Serve with coffee, obviously, if people expect you to make it through the day.)
Lunch go-to: 2 wasa wafers topped with 1/2 slice swiss cheese and 2 slices deli ham (on each). Serve with carrots and 2 tablespoons hummus on the side.
Dinner go-to: Top one-half of a whole wheat tortilla with colby jack cheese, black beans, bell peppers, and frozen corn. Fold over and broil until the cheese is melted. Serve with a salsa and sliced avocado.
What are some of your go-to healthy recipes? Please share - I'm always looking for new ideas so I don't get bored or burnt out. Lastly, because it's Monday and I had such a great past 2 days, I'm sharing some photos from the weekend. Scroll down and skip to the comment section if you don't care :)
Saturday consisted of coffee with friends, lunch with friends, and hanging out with babies and puppies. Cue: awwww...
Saturday night was a hockey game with my bests (Brother, future Sis-in-Law, Me, and Parks).
Lemondrops. Not the hard candy.
++++++++++++++++++++++++++++
This link-up will happen
every Monday
, but it is absolutely not necessary that you join in every single week (although we'd love to have you!) Get Fit, Feel Confident, Be Healthy is all about ANYTHING having to do with your journey to a more fit, fabulous, and healthy you in 2014!
This can be:
Your goals
A recaps of how you did the week before
Your new favorite workout songs
A salad you made for dinner that was healthy and delicious
Something you struggled with last week
Ways you've been able to successfully relieve stress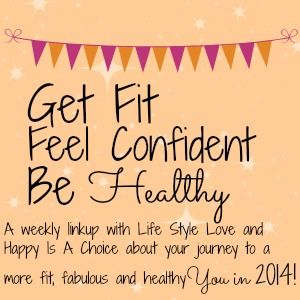 Will you please join in the fun with us?! Here's what you need to do:
1. Follow us on Bloglovin (Brittany and Sam) or GFC. Leave us a comment letting us know so that we can follow you back!
2. Write your Get Fit, Feel Confident, Be Healthy post on Monday. Link-up at one of our blogs!
3. Grab a button (above) and link back to our blogs in your post.
4. Meet new friends who are on a similar journey as you! One of the best parts of this link-up will be meeting other ladies who are sharing their ideas and stories so make sure you check out the other fit+fab women who are linking up!
Use the hashtag #getfitandfab - tag us on instagram and twitter so we can follow you on your journey!
Instagram: @brittmrasmussen and @samanthamarie_8
Twitter: @brit_rasmussen and @samanthamarie_8