I am so excited to share with you guys an idea that Brittany and I have been working on: a new link-up called Get fit, Feel confident, Be healthy. With the beginning of a new year and the end of the holiday season, I think a lot of us set new goals because we want to make changes in our lifestyle. Those goals might involve a new fitness routine, diet, making time for yourself, finding new ways to relieve stress, or anything else that leads to a healthier, more confident person.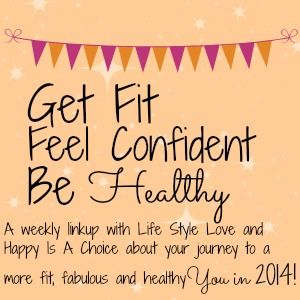 Brittany and I would like you to join in with us! Setting goals, staying accountable, sharing hardships, and finding success is so much easier and more fun to do with a support group. We want to be in your support group so join in our link-up on Monday mornings. There aren't many rules to this link-up. You don't have to write about a certain topic for the week. You don't even have to link up every week. We just want you to share something about your lifestyle - it could be...
Your goals
A recap of how you did the week before
Your new favorite workout songs
A salad you made for dinner that was healthy and delicious
Something you struggled with last week
Ways you've been able to successfully relieve stress
We could all benefit from sharing in each other's stories. It's fun to share when you have success. It's nice to know you're not the only one struggling with something. It's awesome to get new ideas from other fabulous ladies. The first link-up will go live in the morning on this coming Monday, January 6th. Get your post ready, follow both your hosts, and stop by to link up with us. Post about it, grab our button, tweet about it, spread it on insta - wouldn't it be great if you had a group of fabulous ladies by your side, supporting you along the way?! We are so looking forward to this!
Contact us if you have thoughts, questions, concerns, feelings, or just plain wanna talk :)
Brittany from Happy is a Choice Sam from Life Style Love
Contact via blog, e-mail or twitter! Contact via blog, e-mail or twitter!