Hello hello! Did you guys have a great weekend or what? I loved my weekend :) Lots of new, fun, pretty exciting things went on, at least compared to every other weekend of mine that basically involves hanging out, completing a few to-dos, and time that flies by. You'll have to stop back tomorrow for my weekend recap because today I'm sharing how my journey to Get Fit, Feel Confident, and Be Healthy is going.
Last week was my first official week making healthier food choices and working out. My goal right now is to work out 5 days a week - last week I made it 4 days a week. I consider that to be not too shabby considering before last week I was going 0 times a week. Even after just one week of exercising again I feel so.much.better. It's funny how, even though your body doesn't visibly change right away, it certainly feels different. I feel stronger, more toned, more energized, and just plain happier. Gotta love those endorphins I guess.

They're almost as great as good friends and good wine.
My biggest challenge when it comes to living a healthier life is time - finding the time to plan ahead, make healthy choices, and settle into a good routine. Last week I tried a few new tricks. I definitely think that trying these out helped me a ton last week to be pretty successful in meeting my goals:
1. Write your workouts in your planner.
I love my planner. We're best friends. I write everything in there. If it's in the planner it has to happen. Since my biggest struggle is finding/making time to get my sweat on, I scheduled out my workouts last week and wrote them in my planner. I made all of my scheduled workouts except for one.
2. Plan out your dinners for the week.
Last Sunday Parker and I wrote down what we planned to have for dinner each night. Even if the plan was leftovers, or breakfast, or on-your-own we wrote it down. Planning that out really eliminates the urge to just grab something or get a Papa Murphy's pizza. We actually followed all of our planned meals, too.
3. Prep any fresh fruits or veggies as soon as you get home from the grocery store.
I think this one goes without saying: if you do this, you will actually eat your fresh fruits and veggies. Let's be honest, if you're in a rush to get out the door, grab your lunch, or throw together dinner, you don't want to have to rinse the blueberries or cut up the celery. We've started trying to do all the prep before we even put the groceries away.
4. Always have a healthy snack with you.
I've been trying to always have a piece of fruit and some nuts with me so that if I get hungry I've got something. This really helps me to make good snack choices and keeps me from getting to the point where I'm so starving I could eat an entire elephant and it's friends.
5. Use an app or program to track your progress.
The reason I say this is because you will learn a lot. I use MyFitness Pal and try to log my food and workout each day. I don't obsess about getting everything exact; I use it more so that I have a journal log to look back on. Plus, I have learned a lot just by looking up the nutrition facts for different foods.
6. Make a kick-ass workout playlist.
I don't care if it's Luke Bryan, Katy Perry, or Ke$ha; having a fun, blood-pumping, git-er-goin playlist might actually make you look forward to your workouts :)
Weigh-In:
This week: -3.0 pounds
Total weight loss: -4.2 pounds
What tricks have you found work well for you?
And how did your week go? I have loved reading each of your posts that link-up each week!
++++++++++++++++++++++++++++++++++++++++++++++++++++++++++++++++++++++++++
This link-up will happen every Monday, but it is absolutely not necessary that you join in every single week (although we'd love to have you!) Get Fit, Feel Confident, Be Healthy is all about ANYTHING having to do with your journey to a more fit, fabulous, and healthy you in 2014!
This can be:
Your goals
A recaps of how you did the week before
Your new favorite workout songs
A salad you made for dinner that was healthy and delicious
Something you struggled with last week
Ways you've been able to successfully relieve stress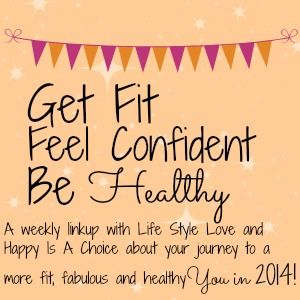 Will you please join in the fun with us?! Here's what you need to do:
1. Follow us on Bloglovin (Brittany and Sam) or GFC. Leave us a comment letting us know so that we can follow you back!
2. Write your Get Fit, Feel Confident, Be Healthy post on Monday. Link-up at one of our blogs!
3. Grab a button (above) and link back to our blogs in your post.
4. Meet new friends who are on a similar journey as you! One of the best parts of this link-up will be meeting other ladies who are sharing their ideas and stories so make sure you check out the other fit+fab women who are linking up!
Use the hashtag #getfitandfab - tag us on instagram and twitter so we can follow you on your journey!
Instagram: @brittmrasmussen and @samanthamarie_8
Twitter: @brit_rasmussen and @samanthamarie_8