What? Is it really Monday already? You guys, it's a big deal that I even know what day it is. Let me give you a long story short: I had a few family things going on and needed to head out of town on New Year's Day with my mom. I packed for 4 days because the plan was to be gone for that long. I ended up being gone for 8 days. Luckily, I have an understanding husband and coworkers and even more luckily, we were able to use my aunt's washing machine about 5 days into our stay. My mind+body basically got completely confused being out of their normal routine so I didn't even know what day it was on a daily basis. But I am back, everyone is healthy, and I finally felt like my normal, cool self on Sunday.
I didn't post in a week (gasp!) and that's my excuse. So there :)
One of my lunches with mom. Don't judge: fro-yo is healthy. Look! We covered it in fruit.
P's team took 3rd today. Can I get a woop woop?!
Let talk about how my journey is going to being fit+fab. On the first of the year I decided I needed to make some changes - not only to lose weight but to be healthy, confident, in shape, and to feel fabulous in general!
Last week
I talked about my specific goals. I was out of town from the 1st until the 9th (see above) so the whole "working out" thing? Yeah, that's not going so well. However, I have changed how I've been eating. I have been choosing fruits and vegetables over other snacks / side dishes. I have definitely been drinking at least 64 ounces of water a day. Being out of town didn't exactly keep me in a good, healthy sleep routine but I think I got that straightened out this weekend :)
AND Parker and I went to the gym this morning. [Actually I'm writing this ahead of time on Sunday night but I told him if I wrote
5:00 AM Workout
in my new Erin Condren planner
that I'm obsessed with
it
has
to happen. It's officially been written down so
I'm hoping that
as you read this, I have finally worked-out for the first time since I-don't-know-when!]
3 things I need to work on right now are:
+ Making time for myself to exercise 5 days a week.
+ Realizing that if I run out of time to get to the gym one day,
it's not the end of the world
.
+ Planning meals+snacks ahead of time to avoid last-minute snacking and/or unhealthy choices.
Weigh-In:
*Being out of town I wasn't able to weigh myself so this reflects my total weight loss since January 1st.
This week: -1.2 pounds
Total weight loss: -1.2 pounds
I think I should be able to do ok with those 3 extra goals this week. Today Parker and I planned out our meals through Thursday night. I also sat down with my planner and wrote down where I can fit in my workouts. I think this will keep me more accountable to make time for exercise. It should be a priority, not a I'll-do-it-if-there's-time thing. What are you working on this week? How did last week go for you? Link-up below and tell us about it!
++++++++++++++++++++++++++++++++++++++++++++++++++++++++++++++++++++++++++++
This link-up will happen
every Monday
, but it is absolutely not necessary that you join in every single week (although we'd love to have you!) Get Fit, Feel Confident, Be Healthy is all about ANYTHING having to do with your journey to a more fit, fabulous, and healthy you in 2014!
This can be:
Your goals
A recap of how you did the week before
Your new favorite workout songs
A salad you made for dinner that was healthy and delicious
Something you struggled with last week
Ways you've been able to successfully relieve stress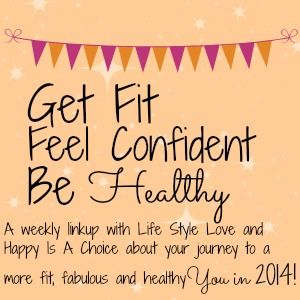 Will you please join in the fun with us?! Here's what you need to do:
1. Follow us on Bloglovin (Brittany and Sam) or GFC. Leave us a comment letting us know so that we can follow you back!
2. Write your Get Fit, Feel Confident, Be Healthy post on Monday. Link-up at one of our blogs!
3. Grab a button (above) and link back to our blogs in your post.
4. Meet new friends who are on a similar journey as you! One of the best parts of this link-up will be meeting other ladies who are sharing their ideas and stories so make sure you check out the other fit+fab women who are linking up!
Use the hashtag #getfitandfab - tag us on instagram and twitter so we can follow you on your journey!
Instagram: @brittmrasmussen and @samanthamarie_8
Twitter: @brit_rasmussen and @samanthamarie_8